Ranger Tales from Baxter State Park and the Allagash Wilderness Waterway
by Retired Baxter State Park Director, Buzz Caverly
and
Retired Allagash Waterway Supervisor, Tim Caverly
Illustrated by Franklin Manzo, Jr.
Real life adventures so entertaining, your eyes won't believe what they are reading.
Escapades, journal entries, tell-all exposés…
                            

…and not a fib in the bunch!
The story: Brothers Buzz and Tim Caverly have spent a lifetime working in the Maine outdoors. Buzz as ranger and director in Baxter State Park. And Tim as a ranger and manager working the four corners of Maine. Retiring from that career that included eighteen years as Supervisor of the Allagash Wilderness Waterway.
For a combined seventy-eight years, the two brothers served as Conservation Officers. Administrating our state's two largest, and often controversial premiere sanctuaries: Baxter State Park and the Allagash Wilderness Waterway. Along with a lifetime of living in the Maine woods, came the real-life adventures. Oh, the tales that could be told! Well, they are!!
---
BOOK DETAILS:
258 pages
5.5 x 8.5
ISBN: 978-1-7322456-1-7
Publication Date: February 2, 2023
LIST PRICE: $24.95
OUR PRICE: $22.95
An Allagash Tails Publication in co-operation with Leicester Bay Books
---
REVIEWS:
"It's a rollicking, fun read, written by two gentlemen who have spent their varied lives in Maine's outdoors, canoeing, hiking, rescuing folks who needed help, and maintaining two of our stat's greatest and most treasured resources — Baxter (State Park), and The Allagash." — Will Lund, The Maine Sportsman
* * * * *
"Recently I enjoyed reading Tim Cavalry's new book, 'Conversations,' the 12th book found in Tim's Allagash Tails Collection.

Released in February of 2023, this is an assortment of short stories as conveyed by brothers Buzz and Tim Caverly, recounting their 78 years of experiences as Maine Park Ranger. I found their book yet another entertaining adventure full of authentic and hilarious anecdotes; true stories from a collection that is always fun to read.

When the outside temperatures are in the teens or twenties and your canoe is soundly asleep in storage for the long winter, Tim's books are as enjoyable as sitting by a campfire. 'Conversations,' is also gratifying. The pictures Tim and Buzz paint in this book make me want to bring my old green Tripper and beavertail paddle inside the house; these "stories" are timeless and speak of a time when fun was still fun, and people were fun people as well.

I especially enjoyed the airborne bear story, and the generated "cover" story was at least as funny as the real story itself. Having spent time in Baxter Park and hearing the non-stop roaring of wind over Katahdin's peak, made me laugh at the thought of hikers keeping one eye on the trail and one eye pealed for the shadows of high-flying critters.

The 'democrat partridge' found in the 'Move Over Mother!' tale was one of the best. I could envision an old buck with his wife traveling a dirt woods 'heater huntin' — a common practice during bird season. Each with an old Lefever side-by-side, 20-gauge shotgun (unloaded of course) within reach. His wife's analogy of democrat and partridge I found very amusing to say the least. Sometimes, truth really is stranger than fiction.

I am pleased to write this review of such positive people and a book well worth reading. I would even go so far as to say, well worth rereading."— Dave Hubley

Author's Note:

Mr. Hubley is a Maine sportsman, writer, and outdoor enthusiast who is the former President of the Allagash Alliance. A group of Maine citizens committed to ensuring that the Allagash Wilderness Waterway remains a world class wilderness experience.
* * * * *
MAINE AUTHORS Posted July 14, 2023
Kennebec Journal / Morning Sentinel
BUSHNELL ON BOOKS:CONVERSATIONS: RANGER TALES FROM MAINE by Tim and Buzz Caverly; Leicester Bay Books, 2023; 254 pages, $24.95; ISBN 978-1-7322456-1-7.

"Over the years Maine readers have enjoyed books by game wardens, law enforcement officers, and all manner of outdoors men and women. Now Buzz and Tim Caverly add to their own series of park ranger stories with
this 12th volume in their "Allagash Tails Collection.""Conversations" continues the brothers' entertaining memoirs of careers as park rangers: Buzz (the older) as a ranger and director of Baxter State Park, and Tim as a ranger in the Allagash Wilderness Waterway. Now retired, their combined ranger experience totals nearly 80 years and they've got the stories to prove it.The book contains 30 stories and a few poems, offering tales both hilarious and poignant, exciting and tender, even a few zingers about meddling politicians. This is great fun and easy reading. There are stories about wildlife, weather, ranger duties, problems, mishaps, and some very colorful characters they've met in the wilderness."How Smart Are Beavers" answers that question, that is, if anyone actually believes this very funny story. "Muskrat Love" isn't just an old song title, it's a tale about rodent romance. In "Winter Walk," Tim tells of unexpectedly meeting a newlywed couple on a snowshoe honeymoon in a bitterly cold Allagash February.Other stories tell of rescuing a lost hunter in the winter, the early days of "whoop and holler communications" (hand-crank telephones and touchy two-way radios), a tense chainsaw confrontation with a renegade guide, hunting accidents and lost children, as well as Tim's interesting conversation with an unsuspecting poacher.Best and funniest is "Allagash Medicine," where old Henry offers Tim an unusual medicinal cocktail (vodka seasoned with a beaver's dried scent gland), and tells the same fishing story over and over. Learn, too, about the new meaning of the term "baited breath." — Bill Bushnell lives and writes in Harpswell.
* * * * *
"Wow, what an outstanding read!! Whether or not you are a Northern Maine native, visitor, or dreamer, this book covers it all. These stories had Tim's unusual mix of comedy, history, woods skills, and even included the truth when politicians make things ugly.

A true flavor of northern Maine, these chapters clearly give the reader the Northern Maine experience. When discussing Russell Pond, I instantly remembered my many long annual hikes to Russell Pond. I can feel my pack weighing twice what I packed when I left Roaring Brook and prepared to cross the ice water at Wassataquoik Stream. Not to mention that cloud of black flies and copperheads in late June that chased us all the way to our Russell Pond fishing destination!

A book for anyone that loves Maine or desires to experience it!!!!" — Maine Game Warden Investigator (Retired) Bill Livezey  
---
PURCHASE:
PRINT BOOK –– Conversations : ConversPRINT • $22.95 (+Maine sales tax and USPS Media Mail Shipping) Use the PayPal Cart button below. You don't have to have a PayPal account. It will safely and securely process any credit or debit card. (plus there are additional ways to pay.)
KINDLE ––
 $9.99 CLICK HERE TO BUY HERE at AMAZON
LIBRARIES and BOOKSTORES please note, contact us directly for special pricing.
---
OTHER BOOKS IN THE ALLAGASH TAILS COLLECTION:
The Allagash Tails Collection VOLUME 1: An Allagash Tail: Marvin & Charlie by Tim Caverly, Illustrated by Franklin Manzo, Jr. (Children's Illustrated Storybook) FICTION
The Allagash Tails Collection VOLUME 2: An Allagash Haunting: The Story of Emile Camile (Book 1 of Olivia's Journey) by Tim Caverly, Illustrated by Franklin Manzo, Jr. (Mystery, Ghost Story) FICTION
The Allagash Tails Collection VOLUME 3: Wilderness Wildlife: Animal Antics from the Allagash by Tim Caverly, Illustrated by Franklin Manzo, Jr. (Children's Illustrated Storybook) FICTION
The Allagash Tails Collection VOLUME 4: A Wilderness Ranger's Journal: Rendezvous at Devil's Elbow (Book 2 of Olivia's Journey) by Tim Caverly, Illustrated by Franklin Manzo, Jr. (Mystery, Ghost Story) FICTION
The Allagash Tails Collection VOLUME 5: Headin' North: A Tale of Two Diaries (Book 3 of Olivia's Journey) by Tim Caverly, Illustrated by Franklin Manzo, Jr. (Mystery, Ghost Story) FICTION
The Allagash Tails Collection VOLUME 6: Solace: Allagash Lake Reloaded by Tim Caverly, Illustrated by Franklin Manzo, Jr. (Outdoor Wildlife Adventure) FICTION
The Allagash Tails Collection VOLUME 6: Solace: Allagash Lake Reloaded by Tim Caverly, Illustrated by Franklin Manzo, Jr. (Outdoor Wildlife Adventure) FICTION AUDIO BOOK
The Allagash Tails Collection VOLUME 7: The Ranger and the Reporter by Tim Caverly, Illustrated by Franklin Manzo, Jr. (Outdoor Wildlife Adventure) FICTION
The Allagash Tails Collection VOLUME 8: Andy's Surprise by Tim Caverly, Illustrated by Franklin Manzo, Jr. (Children's Illustrated Storybook) FICTION
The Allagash Tails Collection VOLUME 9: 'Tis The Season by Tim Caverly, Illustrated by Franklin Manzo, Jr. (Christmas Stories of Maine) HUMOR
The Allagash Tails Collection VOLUME 10: The Ranger's Wife by Tim Caverly, Illustrated by Franklin Manzo, Jr. (OUTDOOR wildlife adventure)
NEW – The Allagash Tails Collection VOLUME 11: From Within-Intrigue On The Allagash by Tim Caverly, Illustrated by Franklin Manzo, Jr. (OUTDOOR wildlife adventure)
NEW – The Allagash Tails Collection VOLUME 12: CONVERSATIONS by Tim Caverly, Illustrated by Franklin Manzo, Jr. (OUTDOOR wildlife adventure)
---
Co-published by Allagash Tails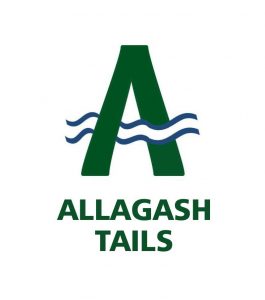 and Leicester Bay Books