Ranger Tales from Baxter State Park and the Allagash Wilderness Waterway
by Retired Baxter State Park Director, Buzz Caverly
and
Retired Allagash Waterway Supervisor, Tim Caverly
Illustrated by Franklin Manzo, Jr.
Real life adventures so entertaining, your eyes won't believe what they are reading.
Escapades, journal entries, tell-all exposés…
                            

…and not a fib in the bunch!
The story: Brothers Buzz and Tim Caverly have spent a lifetime working in the Maine outdoors. Buzz as ranger and director in Baxter State Park. And Tim as a ranger and manager working the four corners of Maine. Retiring from that career that included eighteen years as Supervisor of the Allagash Wilderness Waterway.
For a combined seventy-eight years, the two brothers served as Conservation Officers. Administrating our state's two largest, and often controversial premiere sanctuaries: Baxter State Park and the Allagash Wilderness Waterway. Along with a lifetime of living in the Maine woods, came the real-life adventures. Oh, the tales that could be told! Well, they are!!
---
BOOK DETAILS:
258 pages
5.5 x 8.5
ISBN: 978-1-7322456-1-7
LIST PRICE: $24.95
OUR PRICE: $19.99
An Allagash Tails Publication in co-operation with Leicester Bay Books
---
REVIEWS:
"Recently I enjoyed reading Tim Cavalry's new book, 'Conversations,' the 12th book found in Tim's Allagash Tails Collection.

Released in January of 2023, this is an assortment of short stories as conveyed by brothers Buzz and Tim Caverly, recounting their 78 years of experiences as Maine Park Ranger. I found their book yet another entertaining adventure full of authentic and hilarious anecdotes; true stories from a collection that is always fun to read.

When the outside temperatures are in the teens or twenties and your canoe is soundly asleep in storage for the long winter, Tim's books are as enjoyable as sitting by a campfire. 'Conversations,' is also gratifying. The pictures Tim and Buzz paint in this book make me want to bring my old green Tripper and beavertail paddle inside the house; these "stories" are timeless and speak of a time when fun was still fun, and people were fun people as well.

I especially enjoyed the airborne bear story, and the generated "cover" story was at least as funny as the real story itself. Having spent time in Baxter Park and hearing the non-stop roaring of wind over Katahdin's peak, made me laugh at the thought of hikers keeping one eye on the trail and one eye pealed for the shadows of high-flying critters.

The 'democrat partridge' found in the 'Move Over Mother!' tale was one of the best. I could envision an old buck with his wife traveling a dirt woods 'heater huntin' — a common practice during bird season. Each with an old Lefever side-by-side, 20-gauge shotgun (unloaded of course) within reach. His wife's analogy of democrat and partridge I found very amusing to say the least. Sometimes, truth really is stranger than fiction.

I am pleased to write this review of such positive people and a book well worth reading. I would even go so far as to say, well worth re-reading."— Dave Hubley

Author's Note:

Mr. Hubley is a Maine sportsman, writer, and outdoor enthusiast who is the former President of the Allagash Alliance. A group of Maine citizens committed to ensuring that the Allagash Wilderness Waterway remains a world class wilderness experience.
---
PURCHASE:
PRINT BOOK –– Conversations : ConversPRINT • $19.95 (+Maine sales tax and USPS Media Mail Shipping) Use the PayPal Cart button below. You don't have to have a PayPal account. It will safely and securely process any credit or debit card. (plus there are additional ways to pay.)
KINDLE ––   $9.99 LINK HERE SOON
---
Co-published by Allagash Tails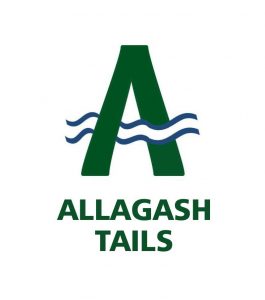 and Leicester Bay Books