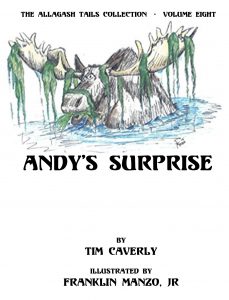 by Tim Caverly
Illustrations by Franklin Manzo, Jr
NOW IN ITS SECOND EDITION!
Andy — What A Moose, ayuh!
Sometimes surprises can go two ways!
The story is about a Maine moose who one day receives the biggest surprise ever. Geared for the three-year old and up, the tale takes place in the heart of New England's wild river-the Allagash. The account is based on an event I witnessed one day when working as a Maine park ranger. The publication, an illustrated 600-word book, contains 16 full color drawings and 4 coloring pages. 'Andy's Surprise' is perfect for the young of age and young of heart. All readers, in Maine or out of Maine, will enjoy this treasure from the wildest part of the northern woods.
PRODUCT DETAILS: (Buy from the Purchasing Section, below)

PAPERBACK

2nd EDITION

— Now Available

Paperback: 26 pages
Publisher: Leicester Bay Books (2019)
Language: English
ISBN-10: TBA
ISBN-13: 978-1-7322456-6-2
Package Dimensions: 8.5 x 8.5 x 0.2 inches
Shipping Weight: 0.2 ounces
BISAC: Children's Books, Animals, Wildlife, storybook, coloring book
LIST PRICE: #10.99
KINDLE EDITION
File Size: 29326 KB
Publisher: Leicester Bay Books; 2nd edition (August 12, 2019)
Publication Date: August 12, 2019
Sold by: Amazon Digital Services LLC
Language: English
ASIN: B07WHJMGNZ
Lending: Enabled
Kindle List Price: $5.99
---
PREVIEW THE FIRST CHAPTER
 a PDF PreviewPages file is available and contains the front matter, plus the first three pages: SOON
The author has established a FACEBOOK fan page — HERE
---
REVIEWS & COMMENTS
SOON
---
PURCHASING DETAILS:
PAPERBACK EDITION
Purchase a PAPERBACK PRINT version for $9.95 (+ shipping and handling and Maine Sales Tax) through us by using our PayPal Shopping Cart and the "Add To Cart" button below. (Be sure to enter your zip code when prompted to enable the correct shipping charges so you get your book(s) in a timely manner.)

KINDLE EDITION
 Purchase the KINDLE version for  $5.99 directly from Amazon.com (HERE)
MORE BOOKS FROM THE ALLAGASH TAILS COLLECTION
---
Libraries, Bookstores and Resellers
There is a long list of Maine outlets selling the PRINT version of this book. Bookstores and Outfitter/Sporting Goods stores across the state carry it.
Please contact us for wholesale pricing.
Contact us by email for a quote on Library and wholesale prices. We will then send you a PayPal invoice. Do not order from this page.
From the catalog of