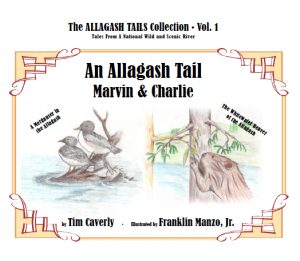 by Tim Caverly
Illustrations by Franklin Manzo, Jr
A collection of tall tails for the whole family. Perfect to be read around the campfire or when tucking the little campers into bed.
Swim with Marvin Merganser, a fish-eating duck that usually has very bad luck, but his sympathy for a watery neighbor changes all of that. Feel compassion for Charlie, the White Water Beaver. Charlie is cross-eyed and narrow tailed and dreams of a better life. See if he can overcome life's adversities in this charming "tail" for the ages.
This is the book that started it all! A charming set of stories for families to read together, or separately. Just think — a duck and a beaver began the whole thing!
PRODUCT DETAILS: (Buy from the Purchasing Section, below)

PAPERBACK EDITION
Paperback: 35 pages
Publisher: Caverly & Manzo Enterprises (2009)
Language: English
ISBN-10: 1450712703
ISBN-13: 978-1450712705
Package Dimensions: 88.4 x 5.8 x 0.7 inches
Shipping Weight: 12.6 ounces
BISAC: Children's Books, Animals, Wildlife
LIST PRICE: $12.00
KINDLE EDITION
File Size: 5474 KB
Publisher: Leicester Bay Books; 1 edition (February 13, 2018)
Publication Date: February 13, 2018
Sold by: Amazon Digital Services LLC
Language: English
ASIN: B079TDJF5C
---
PREVIEW THE FIRST CHAPTER
---
REVIEWS & COMMENTS
5.0 out of 5 stars

Enjoyable antics in the Allagash
By Amazon Customer on June 12, 2013

"This book is a great read for all ages! Charlie and Marvin are two characters that no library should be without! Two heartwarming stories that would make great campfire reads! I would definitely recommend any of Tim Caverly's books. They are all wonderful tales that will take you into the heart of the Allagash!"
---
PURCHASING DETAILS:
PAPERBACK EDITION
Purchase a PAPERBACK PRINT version for $11.00 (+ shipping and handling and Maine Sales Tax) through us by using our PayPal Shopping Cart and the "Add To Cart" button below. (Be sure to enter your zip code when prompted to enable the correct shipping charges so you get your book(s) in a timely manner.)

KINDLE EDITION
 Purchase the KINDLE version for  $3.99 directly from Amazon.com (HERE)
MORE BOOKS FROM THE ALLAGASH TAILS COLLECTION
---
Libraries, Bookstores and Resellers
There is a long list of Maine outlets selling the PRINT version of this book. Bookstores and Outfitter/Sporting Goods stores across the state carry it.
Please contact us for wholesale pricing.
Contact us by email for a quote on Library and wholesale prices. We will then send you a PayPal invoice. Do not order from this page.
From the catalog of