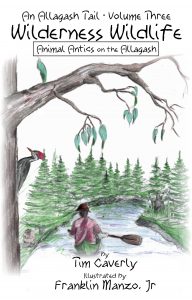 Animal Antics from our Nation's Premiere Wild and Scenic River-the Allagash
by Tim Caverly
Illustrations by Franklin Manzo, Jr
Who was Henry David Thoreau anyway?
Ever since Henry David Thoreau visited the Allagash, thousands of people have flocked to Maine's North Woods to enjoy, deer, moose and the call of the loon. But do we really know what goes on in the animal world? What if we could talk to the animals, what might they say? Find out by reading "Wilderness Wildlife."
Float with Carl the Wise Old Canoe as he travels the Allagash and learns of the animal antics that his Allagash friends are having. Delight with Oscar "the awkward Osprey" when he falls out of the sky and finds the most unusual thing ever, astound to the chilling "tale" about how two young hunters tumble into trouble during "The Attack at Partridge Junction."
PRODUCT DETAILS: (Buy from the Purchasing Section, below)

PAPERBACK EDITION
Paperback: 90 pages
Publisher: Caverly & Manzo Enterprises (2010)
Language: English
ISBN-10: 1450736378
ISBN-13: 978-1450736374
Package Dimensions: 8.5 x 5.5 x 0.2 inches
Shipping Weight: 3.2 ounces
BISAC: Children's Books, Animals, Wildlife
LIST PRICE: $10.95
KINDLE EDITION
info coming soon
File Size: ??
Print Length: ??
Publisher: Leicester Bay Books; 1st editionKINDLE
Publication Date: ??
Sold by: Amazon Digital Services LLC
Language: English
ASIN: ??
Kindle List Price: $3.99
---
PREVIEW THE FIRST CHAPTER
 a PDF PreviewPages file is available and contains the front matter, the Prologue, and Chapter One: SOON
The author has established a FACEBOOK fan page — HERE
---
REVIEWS & COMMENTS
SOON
---
PURCHASING DETAILS:
PAPERBACK EDITION
Purchase a PAPERBACK PRINT version for $9.00 (+ shipping and handling and Maine Sales Tax) through us by using our PayPal Shopping Cart and the "Add To Cart" button below. (Be sure to enter your zip code when prompted to enable the correct shipping charges so you get your book(s) in a timely manner.)

KINDLE EDITION
 Purchase the KINDLE version for  $3.99 directly from Amazon.com (SOON)
MORE BOOKS FROM THE ALLAGASH TAILS COLLECTION
---
Libraries, Bookstores and Resellers
There is a long list of Maine outlets selling the PRINT version of this book. Bookstores and Outfitter/Sporting Goods stores across the state carry it.
Please contact us for wholesale pricing.
Contact us by email for a quote on Library and wholesale prices. We will then send you a PayPal invoice. Do not order from this page.
From the catalog of