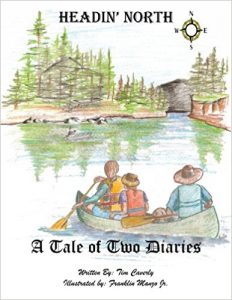 Book 3 in the North Maine Woods Trilogy (Olivia's Journey) of The Allagash Tails Collection
by Tim Caverly
Illustrations by Franklin Manzo, Jr
Red sky at night,
Sailors delight
Red sky at morning,
Sailors take warning…
Remembering her grandfather's dire weather forecast, a young girl stares at the morning's inflamed sky. Traveling by canoe deep in the Maine woods is not where Olivia should be-but that's exactly where she is.
Suddenly— lightning strikes the nearby shore, nearly jumping the girl out of her skin. Looking towards the sound, the youth sees the apparition of a log cabin floating over a vacant lot. Inside the building a young ranger is looking out—the pair exchange unintended smiles—under the aroma of a blown out match, the scene fades.
This is the third and final book of the exciting North Maine Woods trilogy, detailing a family's paddle down a famous American River. During the day the girl records her unbelievably wild adventures, and each night she listens spellbound while her mother reads incredible tales from the grandfather's hand written journal. Olivia and her family are the 39 mile mark of a 92 mile wilderness Allagash canoe adventure.  Then, in the middle of a remote lake they see storm clouds gathering. Thunderheads build and lightening strikes the nearby shore. Bolts of electricity char the ground, and the electric charge opens a portal through time. This cosmic doorway allows a granddaughter and grandfather, separated by the years, to write in their diaries at the same cosmic instant. In "Headin' North" discover stories from today and yesterday as Olivia experiences the North  Maine Woods in a whole new way….and find out why Olivia feels like she is walking in her Pépé's (grandfather's) shoes…
The three of books in THE NORTH MAINE WOODS TRILOGY (Olivia's Journey):
Book3: Headin' North: A Tail of Two Diaries
These three books are part of the greater collection of ALLAGASH TAILS (see below for link)
PRODUCT DETAILS: (Buy from the Purchasing Section, below)

PAPERBACK EDITION
Paperback: 324 pages
Publisher: Caverly & Manzo Enterprises (2013)
Language: English
ISBN-10: 1467581712
ISBN-13: 978-1467581714
Package Dimensions: 8.4 x 5.4 x 1 inches
Shipping Weight: 14.4 ounces
LIST PRICE: $24.95
KINDLE EDITION
info coming soon
File Size: ??
Print Length: ??
Publisher: Leicester Bay Books; 1st editionKINDLE
Publication Date: ??
Sold by: Amazon Digital Services LLC
Language: English
ASIN: ??
Kindle List Price: $6.99
---
PREVIEW THE FIRST CHAPTER
 a PDF PreviewPages file is available and contains the front matter, the Prologue, and Chapter One: SOON
SPECIAL OFFER:

The play was adapted for radio broadcast in 2012 on WHOU FM 100.1, featuring some of the performers from the Starbright Children's Theatre production. An mp3 copy of that broadcast is available free with the purchase of any two of the following:

The Full Production Script of  An Allagash Haunting: The Story of Emile Camile HERE
The YA Novel of An Allagash Haunting: The Story of Emile Camile  • Book 1 of Olivia's Journey • HERE 
The YA Novel of The Wilderness Ranger's Journal: Rendezvous at Devil's Elbow • Book 2 of Olivia's Journey • HERE 
The YA Novel of Headin' North: A Tale of Two Diaries • Book 3 of Olivia's Journey • (Below, in the Purchase section)

(Purchase of Kindle formats will not qualify for the free mp3.)

Once we have your email address from the purchase of these items through our PayPal Shopping Cart, we will send an email to you to see if you are interested in a copy of the 54MB mp3. Upon your reply, you will then be given a link to our Google Docs download.
The author has established a FACEBOOK fan page — HERE
---
REVIEWS & COMMENTS
4.0 out of 5 stars on AMAZON

Enjoyable and educational
By French Pioneer on November 3, 2013
Format: Paperback
This book is not only enjoyable but very educational. Woven into the story is much of the history of the Allagash River and the logging industry's use of the river for decades. This is Caverly's best book yet.
---
PURCHASING DETAILS:
PAPERBACK EDITION
Purchase a PAPERBACK PRINT version for $19.95 (+ shipping and handling and Maine Sales Tax) through us by using our PayPal Shopping Cart and the "Add To Cart" button below. (Be sure to enter your zip code when prompted to enable the correct shipping charges so you get your book(s) in a timely manner.)

KINDLE EDITION
 Purchase the KINDLE version for  $6.99 directly from Amazon.com (SOON)
MORE BOOKS FROM THE ALLAGASH TAILS COLLECTION
---
Libraries, Bookstores and Resellers
There is a long list of Maine outlets selling the PRINT version of this book. Bookstores and Outfitter/Sporting Goods stores across the state carry it.
Please contact us for wholesale pricing.
Contact us by email for a quote on Library and wholesale prices. We will then send you a PayPal invoice. Do not order from this page.
From the catalog of