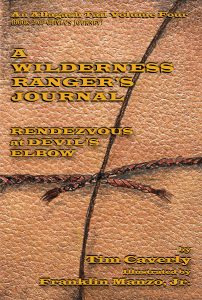 Book 2 in the North Maine Woods Trilogy (Olivia's Journey) of The Allagash Tails Collection
by Tim Caverly
Illustrations by Franklin Manzo, Jr
In the dark of night there is always something else!
There is a always special feeling to the Allagash (those of you who've been there know!); a sense of adventure, the thrill of getting away from it all!
In the prequel to the popular An Allagash Haunting, but written afterwards, the family has only been on the water for four days and already Livy has experienced enough to last a lifetime.
In this mystery-adventure paddle with  Olivia and her family as they canoe Northern Maine's most famous wilderness river The Allagash. The three family members have only been on the river for four days and already they have experienced enough to last a life time. Looking at a map of their travel route they find there is a bend in the river called "The Devil's Elbow" in front of them. They wonder what they could  possibly encounter next as the current carries them down stream against their will.  In the darkest of the night, a shadow lingers, hiding beyond the reach of the lantern's fingers of light.  It remains obscure in the midst of the evergreens and old growth. Among the campfires and s'mores, a bone-chilling draft embraces all. Shivering, we draw our coats tighter to protect against the rawness.
The three of books in THE NORTH MAINE WOODS TRILOGY (Olivia's Journey):
These three books are part of the greater collection of ALLAGASH TAILS (see below for link)
PRODUCT DETAILS: (Buy from the Purchasing Section, below)

PAPERBACK EDITION
Paperback: 225 pages
Publisher: Caverly & Manzo Enterprises (2012)
Language: English
ISBN-10: 1450795536
ISBN-13: 978-1450795531
Package Dimensions: 7 x 5.5 x 0.5 inches
Shipping Weight: 7.2 ounces
BISAC: Books > Mystery, Thriller & Suspense > Mystery
LIST PRICE: $16.95
KINDLE EDITION
File Size: 5423 KB
Publisher: Leicester Bay Books; 2 edition (March 25, 2018)
Publication Date: March 25, 2018
Sold by: Amazon Digital Services LLC
Language: English
ASIN: B07C9BMFDQ – Supported

X-Ray: Enabled

Word Wise: Enabled
Lending: Enabled
Kindle List Price: $7.99
---
PREVIEW THE FIRST CHAPTER
SPECIAL OFFER:

The play was adapted for radio broadcast in 2012 on WHOU FM 100.1, featuring some of the performers from the Starbright Children's Theatre production. An mp3 copy of that broadcast is available free with the purchase of any two of the following:

The Full Production Script of  An Allagash Haunting: The Story of Emile Camile HERE
The YA Novel of An Allagash Haunting: The Story of Emile Camile  • Book 1 of Olivia's Journey • HERE 
The Wilderness Ranger's Journal: Rendezvous at Devil's Elbow • Book 2 of Olivia's Journey • (Below, in the Purchase section)
The YA Novel of Headin' North: A Tale of Two Diaries • Book 3 of Olivia's Journey •  HERE

(Purchase of Kindle formats will not qualify for the free mp3.)

Once we have your email address from the purchase of these items through our PayPal Shopping Cart, we will send an email to you to see if you are interested in a copy of the 54MB mp3. Upon your reply, you will then be given a link to our Google Docs download.
The author has established a FACEBOOK fan page — HERE
---
REVIEWS & COMMENTS
Another good Allagash tale!
By Jo Ann Planteon June 11, 2016

"This was another book in his series of Allagash tales. It was interesting …The illustrations in the book were very good. Over all, I like the book and enjoy learning about this part of Maine."
---
PURCHASING DETAILS:
PAPERBACK EDITION
Purchase a PAPERBACK PRINT version for $14.95 (+ shipping and handling and Maine Sales Tax) through us by using our PayPal Shopping Cart and the "Add To Cart" button below. (Be sure to enter your zip code when prompted to enable the correct shipping charges so you get your book(s) in a timely manner.)

KINDLE EDITION
 Purchase the KINDLE version for  $7.99 directly from Amazon.com (HERE)
MORE BOOKS FROM THE ALLAGASH TAILS COLLECTION
---
Libraries, Bookstores and Resellers
There is a long list of Maine outlets selling the PRINT version of this book. Bookstores and Outfitter/Sporting Goods stores across the state carry it.
Libraries, Bookstores and Resellers
Please contact us for wholesale pricing.
Contact us by email for a quote on Library and wholesale prices. We will then send you a PayPal invoice. Do not order from this page.
From the catalog of