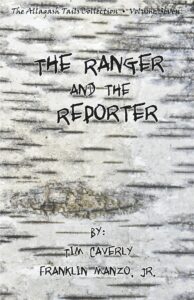 Tales from Maine's National Scenic and Wild River
Written by Tim Caverly
Illustrated by Franklin Manzo, Jr.
What's in a Name?
"A Rose by any other name-
would smell as sweet.
But a Trillium is still a Stinkin Benjamin." — Jim Clark
Cub reporter Margaret Woodward has been given an assignment she doesn't want! The editor for the Penobscot Basin Times has sent her to interview retired ranger James Clark; a secretive Maine woodsman. Others' have tried to write the man's story; but none have been able to break through the outdoorsman's blunt exterior. Instructed to complete the report –Margaret visits Bangor's assisted living community; where "old man Clark is expected to live out his final days."
In this sequel to the popular book "Solace"–tag along with our reluctant newspaper trainee who struggles to uncover the mysterious ordeals of a wilderness ranger. Will she 'get her story' or will Margaret discover there is more to a person's life than waiting for an inscription on a tombstone—even hers?
The ALLAGASH TAILS COLLECTION series of books have been favorites in Maine for a very long time. But they have never before been offered on KINDLE. This mix of history and true-storytelling with humor, will charm you and convert you to the wonders of the Northern Maine Woods — a place of intrigue, mystery, wonder and history.
PRODUCT DETAILS: (Buy from the Purchasing Section, below)

PAPERBACK EDITION
Paperback: 358 pages
Publisher: Caverly & Manzo Enterprises (2016)
Language: English
ISBN-10: 1495199606
ISBN-13: 978-1495199608
Package Dimensions: 8.5 x 5.5 x 0.8 inches
Shipping Weight: 1 pound
BISAC: Books > Literature & Fiction > Contemporary
Print List Price: $24.95
KINDLE EDITION
info coming soon
File Size: 6357 KB
Print Length: ??
Publisher: Leicester Bay Books; 1st editionKINDLE
Publication Date: September 21, 2017
Sold by: Amazon Digital Services LLC
Language: English
ASIN: 

B075VH1FK5

Word Wise: Enabled
Lending: Enabled
Enhanced Typesetting: Enabled

Kindle List Price: $6.99
---
PREVIEW THE FIRST CHAPTER
 a PDF PreviewPages file is available and contains the front matter, the Prologue, and Chapter One: RangerandReorterKINDLEPREVIEW
The author has established a FACEBOOK fan page — HERE
LISTEN TO:
the Preface of the book read by Tim Caverly
the Introduction of the book read by Angus King, current US Senator and Former Governor of Maine
---
REVIEWS & COMMENTS
4.0 out of 5 stars
By French Pioneer on August 8, 2016

"I bought this book directly from the author and that is why it is not shown as a verified purchase. I found the book to be extremely interesting. The book is about a young reporter who is assigned to interview a retired ranger for an article. Through a series of interviews she learns about the ranger, the history of the Allagash, and about herself. What I liked most about the book, are the stories that the ranger tells the reporter during the interview and the events the reporter reads about in the ranger's journals are all true stories. Very fascinating."

5.0 out of 5 stars…

By Cobscook on July 16, 2016

"This book is a celebration of the Allagash Wilderness Waterway and the great outdoorsmen and women who characterize northern Maine. Told in a series of vignettes as an inexperienced reporter interviews an elderly retired Allagash ranger, the book captures the excitement and history of the Maine outdoor experience. If you like outdoor adventure stories or survival experiences told with humor, this is the book for you. I can't wait to read what author Tim Caverly comes up with next!"

5.0 out of 5 stars

Great Read!
By Amazon Customer on May 23, 2016

"This is a great read for anyone who has a love for outdoor stories. If you have traveled these parts of Maine you will quickly identify with the locations as they are written about and it will bring you back to when you were there yourself. The story will put your mind at ease and allow for you to enjoy a story of adventure and mystery in one of the most beautiful places on earth, Northern Maine!"

5.0 out of 5 stars
By Susan Caverly on May 8, 2016

"This book is a sequel to Mr. Caverly's book "Solace" and I found the characters well developed, with a new twist around every corner. Lots of historical pictures accompanied by new illustrations by Mr. Manzo. I am a fan on the books by Allagash Tails and waiting for the next adventure from the Maine woods."
---
PURCHASING DETAILS:
PAPERBACK EDITION
Purchase a PAPERBACK PRINT version for $21.95 (+ shipping and handling and Maine Sales Tax) through us by using our PayPal Shopping Cart and the "Add To Cart" button below. (Be sure to enter your zip code when prompted to enable the correct shipping charges so you get your book(s) in a timely manner.)

KINDLE EDITION
 Purchase the KINDLE version for  $6.99 directly from Amazon.com (HERE)
MORE BOOKS FROM THE ALLAGASH TAILS COLLECTION
---
Libraries, Bookstores and Resellers
There is a long list of Maine outlets selling the PRINT version of this book. Bookstores and Outfitter/Sporting Goods stores across the state carry it.
Please contact us for wholesale pricing.
Contact us by email for a quote on Library and wholesale prices. We will then send you a PayPal invoice. Do not order from this page.
From the catalog of