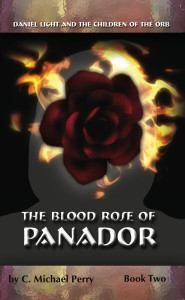 by C. Michael Perry (What if the one who would be the greatest aid to you was someone you didn't even know?) ABOUT THE BOOK: A battle won in a war that only continues. Yet, the quiet that follows the monumental battle of The Miracle of Mirador, is but a ruse. The Dark is still working, as it always will, in shadows, in secret, even in isolation, to bring to pass its bloody purpose — annihilation of the Light. Daniel, The Miracle of Mirador, is again instrumental in the plan to defeat the Dark, but he is also their principal target. As he grows and learns and comes into his powers, those that aid him will soon prosper. Those who oppose him will not. Adventure and intrigue continue to build as Daniel leads his people — this boy prophet, their protector, their guardian — in sometimes fearsome might and with uncanny perception as he battles the powers of Darkness that threaten to engulf them all.
ABOUT THE SERIES: A long time ago on a planet far away there lived The Race of Enchanters, beings of Light. As is ever the situation when Light is present, so, also, is Darkness. These Dark Sorcerors, close kin to the Enchanters, seek to influence and destroy all that had been protected and created by the Light. Other magical beings and creatures inhabit these realms and are torn and divided by this constant battle between Light and Dark; events and prophecies are ignored by the Light, The Dark, and the neutral; allegiances change and shift; power over all being the end result, for some. Then comes word of The Prophecy of Light: a being to come in the median of time to lead the Forces of Light to victory. Thus the stage is set for Daniel Light and the Children of the Orb.
STORY NOTES: The story of Snow White and Rose Red (Brothers Grimm) loosely provides a basic framework on which to hang this re-imagined tale about The Children Of The Orb, which also alludes to the origin of the stories we know and love on Planet Earth as having possibly come from beyond our own Earthly experience.

Book Two
---
Product Details:
LIST PRICE: $13.95
5″ x 8″ (12.7 x 20.32 cm)
Black & White on Creme paper
288 pages
ISBN-13: 978-0615694702
ISBN-10: 0615694705
BISAC CODE: Fiction / Fantasy / Epic
AVAILABLE NOW!
---
Preview of the First Chapter:
---
Where To Buy:
Buy the Internet Special through PayPal ($12.95 + $3.99 s&h + Maine sales tax of 5.5%) Click on the Add To Cart button below: (Be sure to enter your zipcode in the box provided to enable and calculate the shipping)
OR
Available — the KINDLE edition for $6.99 CLICK HERE
OR
Available on KOBO for $6.99 (All e-readers) CLICK HERE
---
Bookstores and Resellers
If you are a bookstore or other reseller and wish to carry this title, or special order a copy for a special customer, contact us by email for a quote on Library and wholesale prices. We will then send you a PayPal invoice. Do not order from this page. Full discounts and return policy.
From the catalog of