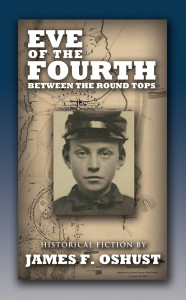 An Historical Fiction/Young Adult Fiction
A book for Young Readers (aged 11 and up) about one of their own during the Civil War.
by James F. Oshust
List Price   $9.95
A sixteen-year-old in the middle of the bloodiest battle of the Civil War
A story of unsuspected courage.
In late June of 1863 two armies converge on an unremarkable field in southern Pennsylvania where Tom Burns, a sixteen-year-old Union soldier becomes enmeshed in three of the Civil War's bloodiest days.
But Tom knows something no one else does.
Something that his commanding officers realize may help them gain an advantage in the coming battle — wherever it is to be fought. But all Tom wants is to return home on the 4th of July, however briefly, to the place he has always known as home — Gettysburg.
Reading level of 11+ to adult.
---
Product Details

LIST PRICE: $9.95
158 pages
5″ x 8″ (12.7 x 20.32 cm)
Black & White on Cream paper
ISBN-13: 978-1481254663
ISBN-10: 1481254669
BISAC: History / United States / Civil War Period
---
Preview of the First Chapter:
Click this link: EveOfTheFourthPREVIEW
---
Where to Buy:
Buy the Internet Special from Leicester Bay Books through PayPal ($9.95 + $3.99 s&h + Maine sales tax of 5.5%) Click on the Add To Cart button:

KINDLE version available HERE for $5.99 NOW AVAILABLE!
(ASIN: B00B2KTJHW)
File Size: 268 KB
Books > Literature & Fiction > Genre Fiction > Historical
Kindle > Kindle eBooks > Fiction > Historical Fiction
---
Bookstores and Resellers
If you are a bookstore or other reseller and wish to carry this title, or special order a copy for a special customer, contact us by email for a quote on Library and wholesale prices. We will then send you a PayPal invoice. Do not order from this page. Full discounts and return policy.
From the catalog of