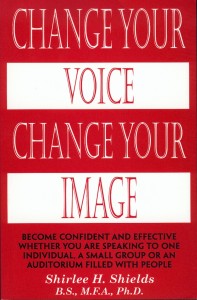 by Shirlee H. Shields (B.S., M.F.A., Ph. D.)
Are you a prince to look at…
but a frog to listen to?
A tiger to see…
but a mouse to hear?
An elegant princess to view…
but a screeching witch to listen to?
Is your voice whiny?
Nasal?
Are you a whisper-talker?
A mumbler?
Do you mispronounce words?
Do you draw out words like taffy or speak with all the interest of a monotonous dripping faucet?
Do your speech "tics" drive a listener away?
The techniques and theories contained in this new approach to speech training will teach you to:
Change the ten major speech faults
Improve your self image
Control Nervousness
Listen and respond to others
Be positive and assertive
Use visual aids and a microphone
Find your true vocal tone
Liberate your natural voice
No longer be a prisoner of your speech
Write and present a speech
Give oral reports and readings
Send clear messages
The simple exercises and techniques in this book will not only improve your communications skills, your self-image and your interaction with others — they will improve and change your life!
---
PRODUCT DETAILS:
Originally published by Alliance Publishing this book is now available from Leicester Bay Books.
ISBN — 0-9741551-0-1
5.25" x 8.25"
Paperback
Pages: 190
List Price: $19.95
---
Where To Buy:
Order from Leicester Bay Books through PayPal for the INTERNET PRICE of $14.95 + $3.99 (S&H) + Maine Sales Tax)
No KINDLE Edition available
 This book is available from the following Resellers:
Eborn Books 254 S. Main Street, Salt Lake City, UT — 801-359-0460
---
Bookstores and Resellers
If you are a bookstore or other reseller and wish to carry this title, or special order a copy for a special customer, contact us by email for a quote on Library and wholesale prices. We will then send you a PayPal invoice. Do not order from this page. Full discounts and return policy.
From the catalog of