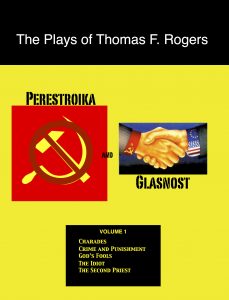 Thomas F. Rogers is a prominent Playwright and former Professor of the Russian language, now retired. Having lived in the U.S. and in Russia, his plays have made the mystery and controversy of "The Red East" singularly accessible.  His plays, "Charades," "Crime and Punishment," "God's Fools," "The Idiot," and "The Second Priest," gathered in one volume for the first time in this volume, deal with Russia, Russians, and  The U.S.S.R, their relations with other countries as well as internally, and focus on the transition into and out of Communism. Taut, political and ideological dramas, all, they enlighten the Human condition, in thoughtful and lively stage adaptations. Now arranged in this one volume, they are available for study and perusal by Professors, Scholars, and Students, who will grow to appreciate the keen mind, probing satire, and wit of Thomas F. Rogers.
With an Introduction by Bob Nelson, Professor at The University of Utah Department of Theatre
---
Book Details
PRINT VERSION:
8.5″ x 11″ (21.59 x 27.94 cm)
Black & White on White paper
222 pages
ISBN-13: 978-1539460435
ISBN-10:1539460436
BISAC: Drama / Anthologies
LIST PRICE: $19.95
KINDLE VERSION:
File Size: 2385 KB
Publisher: Leicester Bay Theatricals; 1 edition (August 24, 2017)
Publication Date: August 24, 2017
Sold by: Amazon Digital Services LLC
Language: English
ASIN: B0754LGNMZ
Available now!
---
PROMOTIONAL:
From the Preface:
"One of life's most important purposes and functions—its greatest source of fulfillment, at least for me—is to commune, to "connect," with others at ever deeper levels of understanding, mutual acceptance, sharing, identification by merging into one another's lives. And yet, how we tend to stifle our inclination, our need to do so, therewith missing the satisfaction and joy—the very nourishment to our souls—that alone derive from such communion, such connection. We do this largely, I think, from fear—fear of rejection. It is easily the most tragic tendency in human affairs and leads not only to emptiness and depression, but to resentment, hostility, and vengeful scapegoating. It lies at the root of the psychology that engenders and exacerbates all conflict and war, whether public or domestic, at every interpersonal level. If the devil inspires anything in us, it is our fear and subsequent disregard of each other, hence of ourselves. There are doubtless practical reasons—limits of attention and energy and time and availability—which preclude our attaching ourselves to or demonstrating our affinity for other than a certain number. But this should never serve—as it mostly does—as a pretext for our not universally caring for and about everyone of whom we become aware or who sooner or later enters our presence." – Thomas F. Rogers
From The Introduction, by Bob Nelson
"The selections in this first volume of Tom Rogers's collected plays appear under the collective sub-title "Perestroika and Glasnost." The Russian word perestroika means "restructuring," and glasnost means "openness." Those terms refer to Communist Party General Secretary Mikhail Gorbachev's 1985-91 radical changes to Soviet economic structure, internal policy, and foreign relations. He led a major change in the leadership of the Communist Party, and decentralized economic planning in favor of market forces. He also reduced central Party control of the mass media, religious groups, and Soviet citizens whose views may have differed from those of their leaders. The results of this massive new "restructuring" and "openness" were felt across the Soviet Bloc. Communist governments collapsed, and the USSR dissolved into multiple independent republics.
The five plays in this volume suggest that on the personal level, too, "restructuring" and "openness" can cause similarly significant change. And a natural hoped-for result of pursuing such personal perestroika and glasnost is the communion which Tom Rogers wants for everyone, in all our relationships—the communion to which he has devoted his entire professional life, accompanied by all the interpersonal and even religious connotations "communion" implies.
Tom Rogers is unabashedly idealistic and ambitious. He wants to change us, and thereby to change the world.These five Perestroika and Glasnost plays by Tom Rogers cry to us in our wilderness, urging us to help prepare the world for better things, whatever the cost. These plays are bold and uncompromising theatrical explorations of the most profound and vexing social dilemmas."
Contains the full text of FIVE of Dr. Rogers' plays:
Charades
Crime and Punishment
God's Fools
The Idiot
The Second Priest
---
PURCHASING:
Purchase a PRINT version (no photocopying allowed) for $16.00 (+ shipping and handling and Maine Sales Tax) through us by using our PayPal Shopping Cart and the "Add To Cart" button below.  (Be sure to enter your ZIP code on the PayPal form to get it shipped to you without problems or questions) (Absolutely safe and secure, you just use your Credit or Debit card!)

KINDLE version available HERE at $8.99
---
OTHER BOOKS IN THE SERIES
---
 PRODUCTION RIGHTS
with Leicester Bay Theatricals
---
Bookstores and Resellers
If you are a bookstore or other reseller and wish to carry this title, or special order a copy for a special customer, contact us by email for a quote on Library and wholesale prices. We will then send you a PayPal invoice. Do not order from this page. Full discounts and return policy.
From the catalog of

in association with