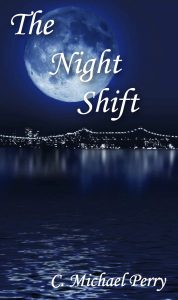 A novel of changes by C. Michael Perry
That shift when the moon is full; that shift of thought when the blood stops flowing and a new creature is born; that six to eight hour shift that all teenagers have to work, at some time or other, at some burger place, or grocery store or movie theatre. The Night Shift explores all the shifts that are incorporated into our lives — or into our non-life, in this particular case. The living un-dead can be a source of great fear, great mystery and great misunderstanding. And great stories.
Trenton, our 113 year old teenager is struggling with the shifts in his un-life. Human friends, the lack of a significant other, the strange feelings and sensations that plague him as he finally settles in to 'existing' among humans in Chicago. Then someone appears who seems to be everything he has ever wanted — BUT…
This is a novel in process. The idea came to me and, as ideas do, they keep running until you can catch up with them! Pray for either fast legs OR good track shoes!
Coming From