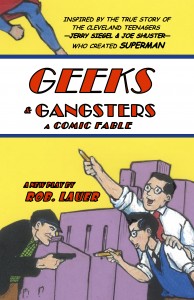 by Rob. Lauer
Inspired by the true story of the Cleveland teenagers—Jerry Siegel and Joe Shuster—who created Superman, "Geeks & Gangsters" is now available for the reading public.
Jerry and Joe were typical high school Geeks: the popular kids ignored them, the jocks picked on them and the girls didn't know they were alive. Brought together by their love of pulp magazines and science fiction (then called scienti-fiction ), they funneled their frustrations as high school outcasts into creating comic characters they dreamed would one day make them famous as comic strip artists. And it was while they were still in high school that they created a character that would become a cultural icon—and the most universally recognized fictional character of the 20th century: Superman! Inspired by the true story of Jerry Siegel and Joe Shuster—the creators of Superman—award-winning playwright Rob. Lauer has created a comic fable about growing up. The frustration of being an outsider, the excitement of connecting with someone who "gets you," the thrill of creating something new, and the pain of losing what you've created—all of this is brought to life in "Geeks & Gangsters."
"Geek & Gangsters" is illustrated with photos from the original production. To get your own copy, just click the the PURCHASING link below.
---
JOIN THE BLOG!
http://geeksandgangsters.blogspot.com/
---
BOOK DETAILS:
5.5 x 8.5
List Price: $11.00
136 pages
ISBN: 978-0-615-84182-3
Black and White on white paper with full color cover
BISAC: Drama / Plays
---
PURCHASING:
Purchase a PRINT version (no photocopying allowed) for $10.00 (+ shipping and handling and Maine Sales Tax) through us by using our PayPal Shopping Cart and the "Add To Cart" button below.  (Be sure to enter your ZIP code on the PayPal form to get it shipped to you without problems or questions) (Absolutely safe and secure, you just use your Credit or Debit card!)
---
Bookstores and Resellers
If you are a bookstore or other reseller and wish to carry this title, or special order a copy for a special customer, contact us by email for a quote on Library and wholesale prices. We will then send you a PayPal invoice. Do not order from this page. Full discounts and return policy.
From the catalog of

---
PRODUCTION RIGHTS