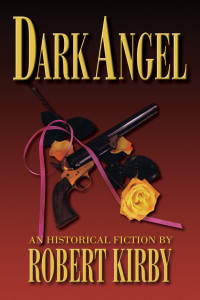 by Robert Kirby
Retail Price: $12.95
A novel about Mormons, by a Mormon, but not only for Mormons!
This is the exciting coming-of-age story of Rose Lee Merrell, an 11 year old girl in the years soon after the Civil War. She is the colorfully outspoken daughter of a Mormon Bishop in 1869 Utah Territory. Everything around her cannot escape her critical eye or mouth. She is a typical child, girl or boy, at the brink of adulthood. She's all tomboy and wonder — wonder about becoming a woman, as her older sister is already; wonder about God and his part in her life; wonder about the Stranger who is suddenly thrust into her path on a lonely road through her fervent, frightened girl's prayer. Rose's life is changed forever by this man no one seems to know, except by the names of 'Red Legs', 'Stuart's Wolf', 'Ghost Smiler', and 'Hash Face'. He is the Dark Angel that was foreseen by the Rose's now dead brother.
"I closed my eyes again and increased both the urgency and tempo of my prayer, knowing full well that it wasn't going to work. Except it did.
A piercing whistle froze everyone. I opened my eyes and looked. Instead of a golden angel hanging in the air above us, I saw a devil man standing at the side of the road.
The devil man seemed to have come from nowhere, as if a harried Satan had cracked open Hell and kicked out someone he couldn't manage. Dust drifted from his shirt like sulphur smoke in the warm breeze. A brace of pistols hung from a wide leather belt around his hips, one low on the right side and the other strapped across the front of him. The wide brim of a hat wrapped a shadow around his face while a ragged blue scarf covered his mouth and neck like the mask of a highwayman. But it was the eyes that riveted my attention and put a piercing weakness deep in the pit of my stomach. The devil man's eyes were flat gray dead things in the shadow of the hat, like the lifeless button eyes of the dolls Ma made for me."
This novel is rough and fast, harrowing and funny, dramatic and romantic, as only Robert Kirby can write it. If it was a movie it would be rated PG or a soft PG-13 due to some language and a situation or two. A great read! 15 Amazon readers agree! You will too!
---
Product Details:
LIST PRICE: $14.95
Paperback: 276 pages
Publisher: Slickrock Books; Second edition (December 1999)
Now available exclusively through Leicester Bay Books.
Language: English
ISBN-10: 1892936097
ISBN-13: 978-1892936097
Product Dimensions: 8.9 x 5.8 x 0.9 inches
Shipping Weight: 1.2 pounds
BISAC Codes:
Books / History / Americas / United States / Civil War
Books / Literature & Fiction / Genre Fiction / Historical
---
Preview of the First Chapter:
Click on this link: DarkAngelPREVIEW
---
Reviews:
Next best thing next to Shane… by Brunoon
"Would love to see a movie made from this great book. Right from the start, I was hooked. Best western I have read in a long time."

(EDITOR'S NOTE: This is exactly what I thought when I read this fine story. It would make a terrific film!)

BY FAR MY FAVOURITE BOOK by Rebecca Lambon
"I'm a teenager and love to read. Ever since I read this book for the first time, it's been my favorite. I used to fall asleep with this book. No matter how many times I read it, I always catch something I missed and it makes me laugh. Even though I could probably tell the story word for word from the heart, when I read Dark Angel, it still makes me laugh or cry. Each time I read it, it's like reading it for the first time again. The characters are so developed and have their own personality. This book is so well written."

Wonderful! by Ianaon
"What a great story!!! My daughter gave me this book for Christmas, a truly rewarding read! Thank you to my daughter, Shelby and to this gifted author -Robert Kirby!!!!"

Yes by Ilecera Adrulaon
"A phenomenal piece, masterfully balancing both humor and the seriousness of the plot. It's a tale that moves the reader."

Very good but different by Gary Hansenon
"The book was different than any other Mormon genre book I have read. Loved the strong characters. Read it on recommendation of my book club and I'm glad I did."

A great book! by Rebecca Arndton
"I wish everyone would take the opportunity to read this book. Robert Kirby is so gifted, his sense of humor is off the charts, so is he ability to take you to another time in history. I wish he would write more books! I have given this book to several of my friends and each one of them has told me that they "could not put it down until they had finished reading it."

Awesome book by Patricia Brackenon
"This was an absolutely awesome book. I had my heart in my throat the entire time. Now, I need a rest."

A good read, time after time! by Shirley R Hillon
"I highly recommend this book. Robert Kirby has such a great sense of humor, as I read the book I could almost see and hear the characters in their drama, especially Rose. I bought and read this book soon after it was published and kept it, reading it about once a year. This is such a good story I never tire of reading it, and now that it is an ebook I can keep it with me constantly. A little history, a lot of humor, and a sensational writer – what more could I ask for!"

Grabbed me in the third paragraph by Wallace J. Swensonon
"A most satisfying read; thank you Mr. Kirby. This book has languished in my library for almost ten years and it's a signed copy, no less. I read the first couple pages and when the character declared her age with "even at the age of near enough eleven" I was hooked. What a wonderful journey I had for the next dozen hours. Writing good historical fiction depends almost entirely on getting the details precise and Kirby has done this using the perfect amount of license. Where the credible is tested, the scene is written such that the reader begs for the incredible; Kirby delivers with all six chambers of Fulton's Colt. There will be some who take issue with Kirby's portrayal of "saints" but realistic people all recognize that without "sinners" to look down on the saints might not look so holy. Well done, sir!"
---
Where to Buy:
Buy from Leicester Bay Books through our PayPal Shopping Cart ($13.95 +  s&h + Maine sales tax) Click on the Add to Cart button
KINDLE version available HERE for $6.99
This book is available at the following Resellers:
Eborn Books 254 S. Main Street, Salt Lake City, UT — 801-359.0460
---
Bookstores and Resellers
If you are a bookstore or other reseller and wish to carry this title, or special order a copy for a special customer, contact us by email for a quote on Library and wholesale prices. We will then send you a PayPal invoice. Do not order from this page. Full discounts and return policy.
From the catalog of

This book is part of the
Slickrock Books
SERIES