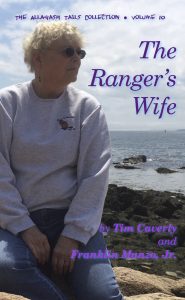 Book 3 in the RANGER JAMES CLARK SAGA
by Tim Caverly
Illustrations by Franklin Manzo, Jr
"Behind every successful man is an amazing woman, and thank goodness Susan was there!" — Ranger James Paul Clark
This is the tenth book in the Allagash Tails collection and the third about the life of Ranger James Paul Clark. The story: Susan, the wife of ranger Jim Clark has spent her whole life in the Maine woods. But Mrs. Clark never realized just how resourceful she could be until her husband went to work on the Allagash Wilderness Waterway. Tag along with our lady-of-the woods as she learns early on in life about deadheads only to discover that there are many dangerous things in the Maine woods and every one of them could instantly make her a widow.
Sometimes it's ok to be alone…but then again–sometimes not!
---
PRODUCT DETAILS: (Buy from the Purchasing Section, below)

PAPERBACK EDITION
Black & white interior with cream paper
Paperback: 196 pages
8.5 x 5.5
Publisher: Leicester Bay Books • 1st Edition
Language: English
ISBN-13: 978-1-7322456-5-5
Shipping Weight: 1 lb
BISAC: Fiction > Action & Adventure
Fiction > Contemporary Women
LIST PRICE: $14.95
KINDLE EDITION
File Size: 10133 KB
Print Length: 230 pages
Publisher: Leicester Bay Books; 1 edition (August 26, 2019)
Publication Date: August 26, 2019
Sold by: Amazon Digital Services LLC
Language: English
ASIN: B07X2QHBTM
Text-to-Speech: Enabled
Word Wise: Enabled
Lending: Enabled
Enhanced Typesetting: Enabled
Kindle List Price: $7.99
---
PREVIEW THE FIRST CHAPTER
 a PDF PreviewPages file is available and contains the front matter, the Prologue, and Chapter Two: Rangers Wife PREVIEWPAGES

The author has established a FACEBOOK fan page — HERE
---
REVIEWS & COMMENTS
"I just finished reading your book, "The Ranger's Wife". I loved it. It is very well written and brought back memories when Mum and Dad were working on the waterway. Recognizing so many of the locations mentioned in your book made it feel so familiar and I identified with it immediately! Great stuff Tim and Sue…keep on writing!" — Fay O'Leary, Hafford Library in the Allagash.

"Dear Tim: Now here's a weird compliment, I suppose. But prior to reading your latest, [From Within] I was dutifully reading "Sacred Duty" by Senator Tom Cotton, his personal story of working as a US soldier at Arlington National Cemetery– involved with all their funerals. It is a worthy book and I'm glad the library got it for me, however, when I picked up your book [Ranger's Wife] to get into next, I felt such a sense of relaxation come over me. It was as if, reading your book, I'd gone into the woods myself. "Away from the grind" kind of a feeling. Hard to describe, but it was weirdly relaxing after reading the "heavy" other. Liked your latest column, too." — Karen
---
PURCHASING DETAILS:
PAPERBACK EDITION
Purchase a PAPERBACK PRINT version for $14.95 (+ shipping and handling and Maine Sales Tax) through us by using our PayPal Shopping Cart and the "Add To Cart" button below. (Be sure to enter your zip code when prompted to enable the correct shipping charges so you get your book(s) in a timely manner.)

KINDLE EDITION
 Purchase the KINDLE version for  $7.99 directly from Amazon.com (HERE)
MORE BOOKS FROM THE ALLAGASH TAILS COLLECTION
---
Libraries, Bookstores and Resellers
Please contact us for wholesale pricing.
Contact us by email for a quote on Library and wholesale prices. We will then send you a PayPal invoice. Do not order from this page.
From the catalog of