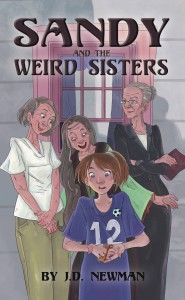 The Sandy Hunter Saga — Book One
by J. D. Newman
Growing up, making choices, being responsible for yourself and the choices we all make might seem everyday to some, but for 12-year-old Sandy, it is a new and liberating experience.
Sandy has grown up under the influence of her widower, rugby-coach father and her athletic older sister Roxie. When her father and sister go to England for a rugby tournament, they leave Sandy in the care of her three great aunts, referred to in family lore as the "weird sisters." The mysterious Weird Sisters have not been seen in years; or so Dad says. Each of the aunts espouses a different faith — Catholicism, Mormonism, and Unitarianism — and yet they respect and support each others' practice, while Sandy views them as the outside seeker of truth she truly is. Sandy enrolls in a literature course, dance classes, and winds up in a community musical production, abandoning the girls' soccer team with which she is supposed to be playing. During her three weeks with her aunts, and never having attended any religious services before, she takes part in services and activities at each of her aunts' churches, finding things that she admires as well as things that confuse her. Her identity of self is to be forged during these three weeks — striking while the metal is hot, so to speak — an identity that she will take the remainder of her life to fashion and finish.
Reading level of 10+ to adult.
---
PRODUCT DETAILS: (Buy from the Purchasing Section)

PAPERBACK EDITION
150 pages (approx)
5"x8"
Black & White on Cream paper

ISBN-13:

978-0692460801

ISBN-10:

0692460802
Leicester Bay Books Trade paperback, 1st edition
BISAC: Juvenile-YA Fiction / Girls & Women
Print List Price: $10.95
KINDLE EDITION
File Size: 595 KB
Print Length: 135 pages
Publisher: Leicester Bay Books; 1st edition (November 20, 2015)
Publication Date: November 20, 2015
Sold by: Amazon Digital Services, Inc.
Language: English
ASIN: B018BAOLSW
---
PREVIEW THE FIRST CHAPTER
READ THE PLAY THAT IS ADAPTED FROM THIS BOOK
---
REVIEWS & COMMENTS:
Reviewed by Kristie Wilkins for the Association for Mormon Letters

"Adolescence is a difficult time for any young girl but Sandy Hunter has some truly unique challenges.  Raised by a single father after her mother's death, Sandy tries to show enthusiasm for the sports her older sister excels in and her father loves.  Living in the shadow of her talented sister leaves Sandy despairing of ever being able to live up to the expectations of her family.  In an effort to fit in she finds herself suppressing her own interests and desire to be or do something different without even realizing it.
After years of hearing wild and audacious stories about her father's aunts whom he has not so affectionately nicknamed the "Weird Sisters," nothing could have shocked 12 year old Sandy more than being unceremoniously dumped on their doorstep for the summer.   As she raised her hand to timidly knock on the door, she could hardly imagine that by stepping over the threshold  she was taking the first step not only in discovering the truth about the weird sisters but discovering herself as well.
Full of pop culture references from my own era, I found myself very much at home in Sandy's world.   While younger readers may not fully appreciate those references, the story itself is universal and ageless in its authenticity.
Author J.D. Newman captures very well the awkwardness and emotional roller coaster of being a preteen girl.  If we are honest with ourselves, we can each see a little of ourselves in Sandy's character–an awkward kid, uncomfortable in her own skin and wanting so badly to fit in and be special in some way. I could further relate to Sandy's love of literature and theater and felt  Newman had a delightful way of applying both to Sandy's circumstances.
I loved the characters of the three sisters.   Each sister was unique in her personality, religion and relationship with Sandy. Each taught her things the others could not simply because of their own personal quirks, struggles and passions.  I appreciated that the relationship between the sisters was realistically depicted–they argued, teased, bantered and interacted as normal sisters would, especially those who have lived together for decades.   The author portrays perfectly the bond of sisters; they may argue amongst themselves but say a word against any one of them and they prove themselves fiercely loyal to one another.  It was wonderful that Sandy found herself at home amongst them and part of that bond.
One of the images from the story that has lingered in my heart and mind since reading the book is that of the fourth bedroom and all it represents.  Without giving away too much of the story, I will say that Newman creates a hauntingly beautiful picture of unfulfilled dreams, heartache and grief mingled with undying hope.  While literal in the story, I believe most of us have figurative fourth bedrooms locked away in our hearts.  It was only when the sisters had the courage to let Sandy into that bedroom that anyone in the story began to be able to change.  So it is in our own lives. Unless we open those doors and find the courage to face and free the ghosts of what could have been, we can't find the hope and the real possibilities also hidden there and bring them to light.
I gave "Sandy and the Weird Sisters" to two of my daughters, ages 10 and 13, prior to reading it myself.   I wanted to hear their opinions before forming my own.  Both of them loved the book but missed most of the pop culture references that delighted me so much.   While they enjoyed the book, they didn't initially take away from the book as many of the life lessons as I had hoped.   I quickly realized that the key to truly unlocking the power of "Sandy and the Weird Sisters" is the *discussion* of the story.
I have a few years' experience on my daughters and therefore understand the cultural references, both pop and religious, through the lens of experience.  As my older daughter saw religious stereotypes, I felt that the author was demonstrating that no matter what religion we adhere to, we can do better at practicing what we believe.  Where my daughters are at an age very similar to Sandy's in the main body of the story and just beginning their own journey of self discovery, I can relate to Sandy, the mother, and see how all of Sandy's experiences and choices enable her to become the incredible woman at the end of the book.  There is a lot to be learned from both perspectives and I think this is a wonderful story for mothers (or fathers) and daughters to experience together.
This is a story about finding the courage to accept who you are, exploring your own unique talents and abilities and pursuing your dreams while appreciating and embracing where and who you came from.  Packed full of life lessons, "Sandy and the Weird Sisters" is a journey of self-discovery for every character in the novel.   As they help Sandy see herself and her potential in new ways, the weird sisters begin to see themselves differently as well.
When they unlock the door to the fourth bedroom, they discover within themselves the courage to unlock their hearts–to let go of the ghosts of their unfulfilled dreams and embrace the very real young girl who fills their home and hearts in ways they could have never anticipated.   Sandy's father and sister have to grow and stretch their relationship as well.  At first shocked and dismayed at the changes in Sandy,  they find within themselves the courage to accept and support Sandy in who she is rather than who they envisioned her to be.
I thoroughly enjoyed "Sandy and the Weird Sisters" and highly recommend it to readers age 10 and up.  It would make a wonderful book club offering or family reading book.  Packed with thought provoking life lessons, I can see hours of delightful discussion between people of varying ages and experiences.  This is author J.D. Newman's debut novel and I highly anticipate many more to come."
AMAZON READERS:
Reviewed in the United States on August 10, 2018 by Craig A. Smith
Although bordering on formulaic, there are enough little surprises in this work to make the entire experience worthwhile. The author has done very well creating a variety of voices for all of the characters, especially the Weird Sisters, who are the absolute best parts of the book.
Reviewed in the United States on May 4, 2016 by Claudia Haas

There is much to recommend in this book. Sandy and her sister are being raised by their widowed father. He has dreams for them that exist on the soccer field – but we later learn they are not necessarily the dreams of his children. Sandy stays with her great-aunts for a few weeks (The Weird Sisters) and is introduced to religion (three of them) for the first time – but none of it is crammed down her throat – the religions are there if she cares to explore further. She also tests her mettle in everything from mundane chores to the newness of dance and theatre. As the book progresses, so does Sandy – often making huge mistakes along the way. Sandy's foibles and learning processes bring smiles. It's a coming-of-age story that explores the needs for young people to test the waters and discover their own dreams, passions, interests and place in the world. If read by both parents and their children, the book would bring up some fascinating discussions.
---
PURCHASING DETAILS:
PAPERBACK EDITION
Purchase a PAPERBACK PRINT version for $10.95 (+ shipping and handling and Maine Sales Tax) through us by using our PayPal Shopping Cart and the "Add To Cart" button below. (Be sure to enter your zip code when prompted to enable the correct shipping charges so you get your book(s) in a timely manner.)
KINDLE EDITION
 Purchase the KINDLE version for  $4.99 directly from Amazon.com (HERE)
---
Bookstores and Resellers
If you are a bookstore or other reseller and wish to carry this title, or special order a copy for a special customer, contact us by email for a quote on Library and wholesale prices. We will then send you a PayPal invoice. Do not order from this page. Full discounts and return policy.
From the catalog of