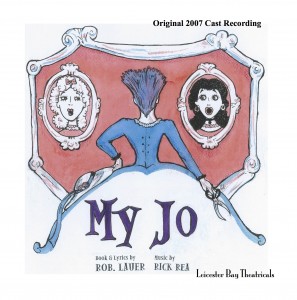 Book & Lyrics by Rob. Lauer
Music by Rick Rea
Set during the American Civil War. Tom-boy Jo March dreams of becoming a writer of gothic thrillers, and has no interest in boys, romance or marriage. When her sisters begin pursuing romantic attachments, Jo-torn over the gender roles of the time-moves away to New York City to pursue a career. Family ties eventually pull her back home and threaten to undermine her dreams and aspirations. Through family trials and tragedies, Jo eventually finds her true voice as a writer-and a companion who loves her for the woman she is. The show is rapidly gaining a following for its fresh, mature approach to "Little Women". This album is from the 2007 Western Wyoming Community College production.
---
PRODUCT DETAILS:
57 minutes, 22 tracks
Leicester Bay Theatricals
UPC: 887936810497
List Price: $14.99
---
List of MUSICAL NUMBERS
1 Into the Vortex — Meg, Amy, Beth, Hannah & Jo
2 Jesus, Joseph, Mary — Hannah & Marmee
3 A Nice Little Dance — Amy, Beth, Meg, Jo, Marmee, Hannah
4 If I was the Boy — Jo & Laurie
5 In the Company of That Girl — Mr. Lawrence, Brooke & Meg
6 You Haven't Fallen In Love — Jo & Laurie
7 Girls Today — Aunt March
8 Little Women — Marmee & the Girls
9 Little Women Reprise 1 —
10 Jesus, Joseph, Mary Reprise — Hannah
11 My Jo — Marmee
12 Soar — Jo
13 This is Love — The Company
14 Soar Reprise — Beth
15 You'll Find Men — Mrs. Kirke & Jo
16 When I'm Feeling Wicked — Mamie
17 Through Your Eyes — Bhaer
18 Little Women Reprise 2 — Marmee
19 This Moment and You — Beth
20 Through Your Eyes Reprise — Bhaer
21 You Haven't Fallen in Love Reprise — Laurie
22 Finale (My Jo) — The Company
DEMO CUTS
---
PURCHASING INFORMATION:
Purchase directly from us for $10.00 (+shipping and Maine Sales Tax) by clicking the "Add to Cart" Button below: (Be sure to enter your ZIPCODE to calculate the shipping charges) AVAILABLE by April 15, 2014
---
Bookstores and Resellers
If you are a bookstore or other reseller and wish to carry this title, or special order a copy for a special customer, contact us by email for a quote on Library and wholesale prices. We will then send you a PayPal invoice. Do not order from this page. Full discounts and return policy.
From the catalog of

---
PRODUCTION RIGHTS
from the catalog of