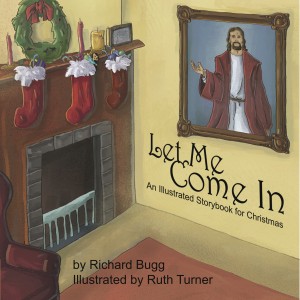 by Richard Bugg
illustrated by Ruth Santos
Have you ever wondered where Christ went in our celebration of Christmas? During not only the frantic rush of the modern Christmas season, but in the hurry and complexity of everyday life, the true meaning and origin of Christmas can get lost, or temporarily mislaid. In the tradition of Clement Moore's classic "Twas The Night Before Christmas", the authors hope to elicit you to invite the Saviour back into your celebration of this special time of year. Let's put the "Christ" back in Christmas as we are told of a special Christmas Eve encountered by one man who was worried and haggard and drawn by all the secular trappings that have been laid on top of this holiday; and how he found release from his worries.
---
PRODUCT DETAILS:
List Price: $13.99
8.25″ x 8.25″ (20.955 x 20.955 cm)
paperbound
Full Color Bleed on White paper
28 pages
ISBN-13: 978-0692232637
ISBN-10: 069223263X
BISAC: Fiction / Christian / Classic & Allegory
Now Available!
---
Click LetMeComeInPREVIEWBOOK for a preview of the book's first few pages.
---
Reviews and Comments:
By Trudy Thompson for AML
"…imaginative tale … The uniqueness of this book will make it a novel Christmas book for the home library. This is an excellent book for adults and children alike."
REVIEWS FROM AMAZON READERS
Format: Paperback Verified Purchase

"A wonderful Christmas story that helps the whole family remember the true meaning of Christmas. A wonderful story for the kids, a moving reminder for adults. It belongs in the home of every family who celebrates the birth of Jesus."
---
Purchasing Options:
OPTION ONE: BOOK ONLY
Purchase a PRINT version for $13.99 (+ shipping and handling and Maine Sales Tax) through us by using our PayPal Shopping Cart and the "Add To Cart" button below. (Be sure to enter your zip code when prompted to enable the correct shipping charges so you get your book(s) in a timely manner.)

Purchase the KINDLE version for  $6.99 directly from Amazon.com (CLICK HERE)
OPTION TWO: BOOK plus Narrative AUDIO CD

The story is NOW available only from this website (AMAZON does not offer this!), as a supplement to the printed book, on a CD in AUDIO format. Read by the author, it is a charming way to let this book happen to your family.  An additional $3.00 with the purchase of the book. $16.99  (+ shipping and handling and Utah Sales Tax)

OPTION THREE: Narrative AUDIO CD only

$7.95 for the audio CD only (which includes shipping and handling and sales tax). (Do NOT input your ZipCode when prompted.)
If you have already purchased the book before the AUDIO became available, please email me and I will send you a PayPal invoice for the $3.00 + Utah Sales Tax and shipping and handling for a total of $5.71.
NOTE: This AUDIO CD may be available for download soon.
---
Bookstores and Resellers
Main Street Books — Cedar City, Utah ((435) 586-8303)
If you are a bookstore or other reseller and wish to carry this title, or special order a copy for a special customer, contact us by email for a quote on Library and wholesale prices. We will then send you a PayPal invoice. Do not order from this page. Full discounts and return policy.
From the catalog of