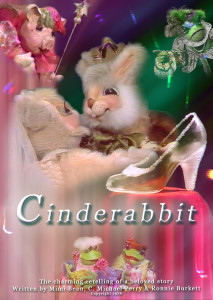 (DVD — of the 1978 PBS Broadcast)
(Now Available)
Script and Lyrics by Mimi Bean
Music by C. Michael Perry
Puppets by Ronnie Burkett
A wonderful musical adapted from the classic Cinderella story with animal characters. Prince Richard–the Rabbit-Hearted, Princess Tabitha of the Blue Mountain Grove; they are the center of this adaptation. It seems that when the Grove burned down years ago, Tabitha's parents left her on the doorsteps of the Bugmerks, a family of toads on the edge of the Great, Grey Swamp. After the death of Mr. Bugmerk, Emilia and her daughters Merklene and Bogelda made life miserable for our Tabitha. So much so that she remembers none of her past, hence they call her "Cinderabbit." Life is made bearable for her by her close friend and confidant, Mercedes, a mouse living in the Bugmerk's dwelling.  Well, the night of the Ball comes. The Bugmerks leave poor Cinderabbit behind. And who appears? Gracie–Cinderabbit's Fairy Pig-Mother, who sends Tabitha off to the ball. Delightful characters and situations populate this colorful retelling of the classic tale. When filmed as a television puppet-musical for PBS by KBYU-TV in Provo, Utah it won a "Best of West" award and an EMMY award.
---
PRODUCT INFORMATION
List Price: $14.95
28 minutes
DVD-R — NTSC All Region (may not play on other Region or PAL DVDs)
UPC: 886470394234
---
AWARDS
1978 "BEST OF WEST AWARD" FOR PUBLIC TELEVISION
1978 EMMY AWARD
---
PURCHASE INFORMATION
If you live outside the United States, it would be best for you to order a copy of the DVD from your area Amazon online store. That way it will come to you in a format you can play on your DVD player. AND the shipping costs are much less expensive ($10-$15 to Canada, $10-$18 to United Kingdom, $15-$20 to Australia — that's with the US Postal Service. UPS is even higher!)
Order from Leicester Bay Books for the price of $12.95 by clicking on the "Add To Cart" button below. (+ shipping and Maine sales tax) PayPal will process the payment and you will have your DVD within a week.
Also available from the BYU Bookstore, Provo, Utah
---
Bookstores and Resellers
If you are a bookstore or other reseller and wish to carry this title, or special order a copy for a special customer, contact us by email for a quote on Library and wholesale prices. We will then send you a PayPal invoice. Do not order from this page. Full discounts and return policy.
From the catalog of

---
PRODUCTION RIGHTS
Another fine product from