by Raymond Reitze
A Teaching Lodge Publishing book
"This is an inspired book, a guide for living from our heart and growing in our spirit. The author is a simple, profound man, a master Maine Guide, and a master teacher who answers our deepest questions. Through his poems and rich stories of life in the bush, he leads us down a path where fear is exchanged for love. He models for us what is possible when we become fully human-fully spirit."
— June A. Trotter, M.A.
Wiscasset, Maine
---
ABOUT THE AUTHOR: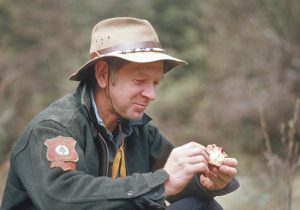 Raymond E. Reitze, Jr. is a Master Maine Guide, author, and philosophy teacher. He has dedicated his life to the teachings of love, and guiding adults and children to their own hearts.
---
BUY THE BOOK:
PAPERBACK EDITION
Purchase a PAPERBACK PRINT version for $16.00 (+ shipping and handling and Maine Sales Tax) through us by using our PayPal Shopping Cart and the "Add To Cart" button below. (Be sure to enter your zip code when prompted to enable the correct shipping charges so you get your book(s) in a timely manner. NOTE: You do not need a PayPal account to use this service. Anyone can use their Credit/Debit card through this secure service.)

KINDLE EDITION
 No KINDLE Edition is available
---
Libraries, Bookstores and Resellers
Please contact us for wholesale pricing.
Contact us by email for a quote on Library and wholesale prices. We will then send you a PayPal invoice. Do not order from this page.
From the catalog of