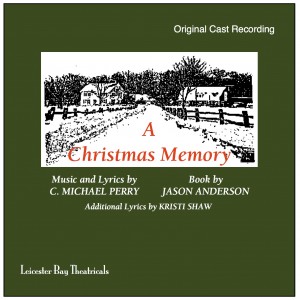 A Musical
Compiled and Edited by Jason Anderson
Music and Lyrics by C. Michael Perry
The musical deals with the feelings of loneliness sometimes felt at Christmas time. It is Christmas of the current year. Irene Rasmussen, (Grandma) has recently lost her husband, Nicholas. She is facing Christmas "alone" for the first time. Of course she isn't entirely alone when her three children and eight grandchildren
descend on her for the holidays. All are concerned for Grandma in her first Christmas without Grandpa. So the family is wondering how this Christmas is going to turn out. A solution to the problem comes along with problems of her own. Danni, a sort of step-grand-daughter is now living with her step mom, Samantha–
Grandma's daughter. Danni McKenna is rebellious and doesn't want to fit in–or maybe she's decided that she can't fit in.
She feels unloved–unwanted. By centering her attention on Danni's problems Grandma eases the loss of her beloved husband. Through the memories of Christmases past, the family comes closer together, eases the loss of Grandpa for all and shows Danni that they accept her for who she is–and for the first time in a long time Danni feels wanted and loved. And it happens in a most unusual way: through the three ghosts of dead family members, who appear to Danni. And through the remembrances of other Christmases.
---
PUBLICATION INFORMATION
Audio CD
UPC: 886470418251
List Price: $12.99
19 minutes, 8 tracks
FROM: Leicester Bay Books
TRACK LISTING
1. Overture — Orchestra (1:28)
2. A Christmas Memory — Mark, Grandpa, Cast (3:04)
3. Christmas Is… — Grandpa & Family (2:13)
4. Christmas Through The Years — Young Irene (2:48)
5. Just Once! — Kids (1:57)
6. So Many Times — Jon McKenna (3:22)
7. A Tale To Tell — Danni & Family (3:48)
8. Finale — Ensemble (0:39)
TRACK SAMPLES
---
PURCHASING INFORMATION:
Buy it from Leicester Bay Books through PayPal for $12.99 (+S&H and Maine Sales Tax) by clicking the 'Add To Cart' button:
---
Bookstores and Resellers
If you are a bookstore or other reseller and wish to carry this title, or special order a copy for a special customer, contact us by email for a quote on Library and wholesale prices. We will then send you a PayPal invoice. Do not order from this page. Full discounts and return policy.
From the catalog of

---
Performance rights licensed by
Encore Performance Publishing LLC (Eldridge Plays and Musicals)